Since 1984
For over 30 years, Allied Roofing has built a reputation as the roofing company South Florida businesses and residents can trust

Commercial Roofing
Commercial roofing services
Storm Damage
24 Hour Emergency Services - Storms come with little notice. Most serious storms damage your roof even if only in a minor way. These small damages can eventually lead to roof leaks. In extreme cases, entire re roofing options may be needed.

Allied Roofing knows how hard it can be to navigate filing an insurance claim. We will assist you and even provide direct links to top insurance companies.

"Allied Roofing Industries, Inc. has worked with OHL-Arellano on projects of various sizes, with a value up to $457,000. During this time, OHL-Arellano has found Allied Roofing Industries, Inc. to be a professional and responsible subcontractor." - Frank Villar
"We would sincerely recommend Allied Roofing on any construction projects you may have." - Alexander Milton
"We know that we can weather any storm and keep our patients and staff dry in the process." - Pete Mills
About Allied Roofing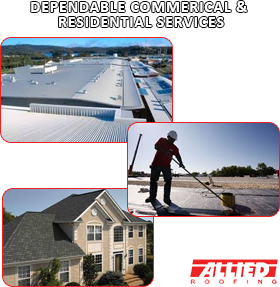 At Allied Roofing, we have built a reputation for providing premier roofing services to South Florida homeowners and commercial clients since 1984. If youre looking for an experienced and trustworthy roofing contractor in Weston FL, Ft. Lauderdale or other nearby areas, Allied Roofing is the company to call. Our roofers bring unparalleled expertise and professionalism to every job, from basic maintenance to reroofing.
Comprehensive, Affordable Services
Our roofers offer a full spectrum of services, including maintenance, repairs and replacements, for residential and commercial roofs. We work on flat and built-up roofs, and we have extensive experience with most popular roofing materials, including tile, shingles, masonry and metal. You can expect competitive pricing on all of our services, since we are always looking for opportunities to keep your costs lower.
Why Choose Allied Roofing?
We think that the quality of our roofing work stands on its own, but we also believe in providing attentive, personalized service to every client. You can always expect courtesy and cooperation from our roofers. When you hire us, youll notice all of the following benefits:
Qualified service. Our roofers are all fully licensed, bonded and insured, and we belong to the NRCA Roofing Contractors Association.
Leading products. We always strive to deliver new products that yield better results and cost savings for our clients.
Guaranteed satisfaction. As a family-owned and operated company, we place our relationships with our clients above everything else.
We will always go the extra mile for our clients. When you hire us for roof repair in Weston FL, Miami or Coral Springs, we take time to identify the ideal option for your situation. If you are dealing with storm damage, we can collaborate with your insurance company throughout the repair process. Any time that you want lasting results and a less stressful roofing experience, we are the company to turn to.
Get Started Today
We know that it can seem difficult to find the right roofing company in Coral Gables FL, Palmetto Bay or other nearby areas. However, we promise excellent service from the moment that you contact us, along with unbeatable final results. To learn more about our services or get an estimate on an upcoming project, use our convenient online request form or call us directly at (855) 729-6096.
---
Complete this form to request a quote | A representative from Allied Roofing will respond within 24 hours.

Thank you for contacting Allied Roofing, a representative will contact you shortly.