Forterra Tile
FORTERRA THE NAME YOU CAN LOOK UP TO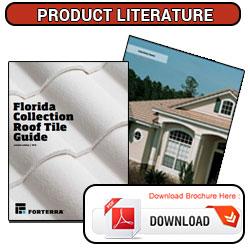 Forterra Roof Tile is a leading manufacturer of concrete roof tile in the U.S., operating plants in Florida and Texas, and supplying quality concrete roof tile in a multitude of sizes and colors for single and multi-family developments, custom homes, commercial and re-roofing applications.
Strength and Durability
Forterra Roof Tile designs are both durable on the roof and strong during shipping and loading.
Virtually maintenance-free, Forterra tile roofs are pest-resistant, do not rot in wet climates and are not damaged by heat or sunlight.
Forterra concrete roof tiles are structurally superior to and last longer than other traditional roofing materials. Because of their proven durability for the life of a roof, Forterra Roof Tile offers a limited lifetime product warranty on its roof tiles.
Forterra Roof Tile is Class-A rated, achieving the highest fire rating available.
The strength of Forterra Roof Tiles concrete products protects a home or building by providing durability, weather resistance, long life expectancy and low lifetime maintenance costs.
Go Back